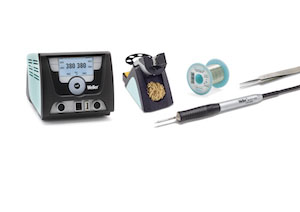 One Station. One Solution. Save money, time and work space!
Weller® is pleased to launch a new exclusive promotion of the "Weller Connect" Program:
Brand new 7 WX Promotion Sets, which are available with 20% discount till 31-12-2020.
Weller WX stations make the manual soldering process safer, a crucial factor in the automotive, aerospace and medical technology industries. This station set is especially designed to meet the MIL-SPEC / IPC standards to save sensitive components from electrical overstress by using Weller's RT MS soldering tips. Weller offers a wide range of RT MS tips to solder components with the size from XS to L.