Pick and Place Machine TronStol A1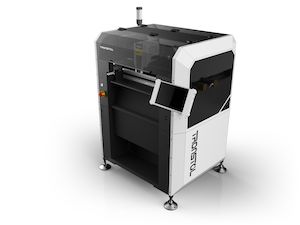 Pick and Place Machine TronStol A1
TronStol A1 automated pick and place machine is the latest high-precision laser flying mounter developed by our company, which can stably and efficiently mount high-precision components such as 0201 and BGA. Compared with a semi-automatic SMT pick and place machine, this automatic SMT pick and place machine is based on the Linux system platform, combined with the advantages of CAN hardware and LIN communication protocol, and systematically connects the whole machine with 5 modules and nearly 80 sub-devices, providing you with industrial-grade performance and stability. Among ordinary automatic PCB/SMD/SMT soldering machines, TronStol A1 automatic pick and place machine is with the ability of fast response, flexible deployment, stability, and reliability.
Automatic Pick & Place for prototyping and low volumes with following features:
4 placing heads with flying vision, 6000 cph
removeable electric feeders, 58 locations
tape, vibration and label feeders including tray pick-up
wide range of nozzles(Samsung CN type)
bottom camera for BGAs and big ICs
0201 to ultra fine-pitch placement
integrated conveyor with SMEMA interface
intuitive interface, linux operating system for improved stability
integrated vacuum pump
max. PCB size: 310 x 1500 mm
max. component height: 8 mm
Required power supply: 220VAC/ 150W
Dimensions and weight: 101x88x135 CM, 98 kg net, 209 kg gross
Or fill in the form below, to request more information.