Weller WXPP MS Soldering Iron Set for High Precision Applications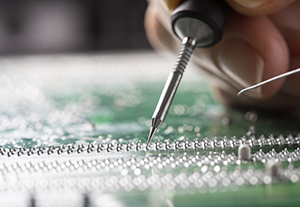 For miniature works under microscope: 0402 and down to 01005. Triple awarded, patented active tip technology that works with Weller WX stations.
Production within the electronics, medical technology and aerospace industries is moving faster as components become smaller, more sensitive, complex and more powerful. The soldering industry is not different. With the Weller WXPP MS Soldering Iron with RTP MS tips you meet these increasing demands and provide maximum protection to the printed circuit board and the component you're soldering. With the MS tips you achieve the best results and keep your operation costs as low as possible. The Weller MS (military standard) soldering tips with active tip technology are fully compliant with IPC industry standards IPC - TM-650 2.5.33 (Measurement of Electrical Overstress from Soldering Hand Tools) and are also MIL-SPEC compliant. Extend your Weller WX workbench with a pico soldering tool. Always use MS tips with MS irons.
Key Features:
For microscope work with components from XS to S, SMD 0402 and down to 01005
Intelligent Pico Soldering Iron WXPP MS 12V, 40W, works with Weller WX stations
Extremely short heat-up time: 3 seconds
According to military standard
Triple awarded active soldering tips
Solder tips can be exchanged quick and easy
Excellent heat transfer
Excellent reaction time
Kit Contents: Pico Soldering Iron WXPP MS 12V, Pico Soldering Tip RTP004SMS, Safety Rest, Tweezers and Solder Wire
This email address is being protected from spambots. You need JavaScript enabled to view it.
Product information
Or fill in the form below, to request more information.