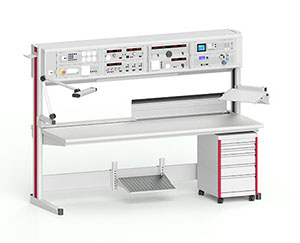 Innovative. Dynamic. Timeless.
The table for a thousand ideas
QUADRO is as changeable as the products that are created on it. Tailored to the complex work processes in assembly, laboratory, QUADRO does not allow any research institutions or apprenticeships wishes open. You can design it exactly how you want it and the purpose requires it.
QUADRO is much more than a table. As a premium product from Karl, the table system combines high quality workmanship, excellent functionality and well-engineered ergonomics for a modern, innovative workplace system.
With its timeless design, light gray base color and decorative colored accents, QUADRO ensures a positive and motivating atmosphere in the workplace and helps release energy and creativity.
Versatile: QUADRO for research and laboratory
Inconspicuous, intelligent and efficient. With these properties, the QUADRO management of power and media cables. Whether horizontal or vertical cable management - the end-to-end cable management organizes and stows away all the necessary cables. Future-oriented work also allows the 19-inch structure for the integration of function and supply modules.
Requirements are constantly changing, especially in research and laboratories. QUADRO grants researchers and technicians the flexibility they need to be up to date.
Teach and learn: QUADRO for training
The individually combinable modules form the perfect basis for the diverse requirements of industrial and school training.
QUADRO thus not only creates an environment that signals appreciation and promotes concentrated learning. Thanks to the practical experimental setups, the trainees also learn all the basics for their future profession.
One table, many options: QUADRO for industry
Efficiency and safety, productivity and motivation are through one ergonomically and functionally designed workstation sustainably increased. QUADRO meets all ergonomic requirements for a modern table system without compromising on stability and function. Optimal reach, material supply, energy and media supply - QUADRO supports changing work postures, offers a high level of working comfort, well thought-out functionality and sophisticated ergonomics.
The extensive range of accessories makes QUADRO a highly flexible table and offers a maximum of individual combination options that can be redesigned, changed and expanded at any time. For every production strategy, QUADRO offers a comprehensive program for the low-waste and ergonomic design of assembly processes.
Ergonomics, Functionality, Design.
QUADRO is everything in one.
With great attention to detail, the QUADRO table system is designed to that it meets your requirements for efficiency to the highest degree, quality and ergonomics.
The linear design, the light gray base color and tasteful color accents radiate timeless modernity and emphasize the high quality of QUADRO. QUADRO is optional for perfect ergonomics in the workplace equipped with an electric height adjustment.
In the ESD version, the table system fulfills all requirements of IEC 61340-5-1 and is therefore ideally suited for use in an EPA.
QUADRO offers everything for assembly-oriented workplace options for ergonomic design according to the requirements of lean production.
Leave the tabletop, storage boards and all add-on elements position yourself continuously variable in height.
QUADRO is full of energy: Mains voltage, data and communication interfaces are available where they are needed. Measurement and testing technology can be used in a 19"structure can be integrated above the work surface. All cables and lines are installed in a concealed manner.
Tasteful color accents, the concise column profile and rounded edges are visually appealing quality features and emphasize the high quality from QUADRO.
Or fill in the form below, to request more information.