Tronstol E4 Automatic Pick & Place Machine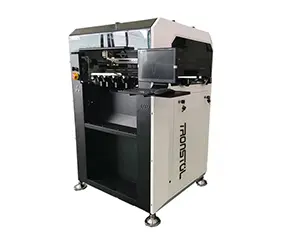 E4 is a high-speed, precise equipment for placing components. It has a wide range of applications and can mount a variety of materials, such as: RC(0201,0402,) QFP QFN, BGA, LED, common lamp beads, etc. XV axis uses the structure of screw guide&guide rail ensures the stability of mechanical movement, and servo closed-loop system ensures the accuracy of placement. E4 adopts CCD 3D laser flying camera, which can identify and scan various types of components, and it also improves the actual mounting speed. E4 uses automatic pocket recognition and SMART feeders with location recognition for faster setup.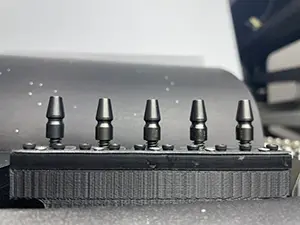 Fast production setup
SMART feeders, automatic pocket recognition, automatic calibration of feeder bank, automatic nozzle exchanger and nozzle recognition make the project setup easy and fast.
Open software
The Linux system can meet your needs for customized software functions, and can match the placement of different application scenarios.
Offline programming
Through the offline software independently developed by Tronstol, you can edit files directly on the computer without occupying the machine. This greatly improves work efficiency.
Automatic Pick & Place Machine for prototyping to mid volumes with following features:
4 placing heads with flying vision, 10000 cph
ball screw guides
removable SMART electric feeders, 52 locations
removable feeder bank, quick recalibration
tape, vibration and label feeders including tray pick-up
wide range of nozzles(Samsung CN type)
automatic nozzle exchanger
bottom camera for BGAs and big ICs, max. component size 26x26 mm
optional 30x30 mm camera
0201 to ultra-fine pitch placement
automatic centering of tape pockets
integrated conveyor with SMEMA interface
intuitive interface, Linux desktop for improved stability and customization, remote support over Wi-Fi
integrated vacuum pump
max. PCB size: 310 x 1500 mm
max. component height: 8 mm
Required power supply: 220VAC/ 150W
Dimensions and weight: 101x88x135 CM, 98 kg net, 209 kg gross
This email address is being protected from spambots. You need JavaScript enabled to view it.
Product information
Or fill in the form below, to request more information.