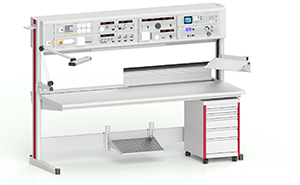 The table for a thousand ideas
QUADRO is as changeable as the products that are created on it. Tailored to the complex work processes in assembly, laboratory, QUADRO does not allow any research institutions or apprenticeships wishes open. You can design it exactly how you want it and the purpose requires it.
QUADRO is much more than a table. As a premium product from Karl, the table system combines high quality workmanship, excellent functionality and well-engineered ergonomics for a modern, innovative workplace system.
With its timeless design, light gray base color and decorative colored accents, QUADRO ensures a positive and motivating atmosphere in the workplace and helps release energy and creativity.