NetAlly Network Testing Tools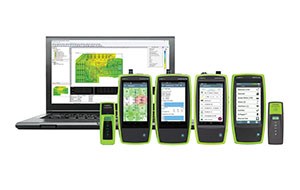 When it comes to network testing and analysis, NetAlly is the #1 ally of network professionals around the world. As an industry leader for more than 25 years, our best-in-class tools and software enable your team to more effectively plan, install, validate, and troubleshoot vitally important wired and wireless networks.
Wired & Wireless Testing Tools You Can Trust
NetAlly handheld network testing tools help frontline technicians validate network connectivity in less than 10 seconds. Our solutions streamline productivity with simple interfaces for technicians of varying skill level.
From planning and deployment to ongoing network troubleshooting, the AirMagnet network tools span the entire WLAN lifecycle.