KARL Workplace solutions for Industry, Research, Education and Logistics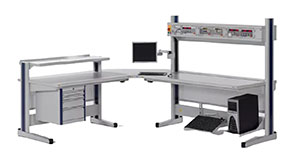 Workplace success factor
Ergonomics. Functionality. Design.

Modern research has long known that a workplace is more than just a place where people work. Efficiency and safety can be sustainably increased through the needs-based conception and design of the places where people perform their daily work. Investments in future-proof workplaces are therefore not an end in themselves - they sustainably increase productivity and the quality of performance. In this way, the workplace becomes an element of corporate success.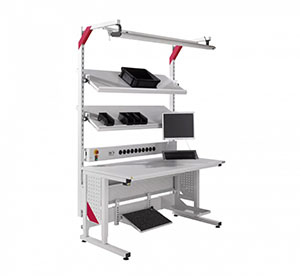 The implementation of industry-specific and individual workplace solutions therefore places special demands on ergonomics, functionality and design. As a family-owned company with a long tradition, we not only have many years of experience in this field. We also have the flexibility that often makes the difference in practice: With around 170 employees, we have comprehensive know-how and high-performance production capacity. We find solutions that turn your requirement into a market advantage.
Quality is our top priority. We process high-quality materials with state-of-the-art manufacturing processes to create solid, long-lasting furniture. We do not only attach importance to the highest standards of ergonomics and functionality. Appealing design is also important. People should feel comfortable at their workplace, because a positive working atmosphere increases motivation and identification with the company. Satisfied employees perform better and work more safely.
Trust in our expertise and in quality, made in Germany.