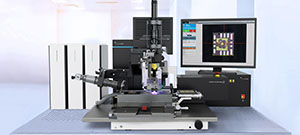 The Most Powerful Tool for Lab & Research
Multi-Purpose Manual Die Bonder
The FINEPLACER® pico 2 is a multi-purpose, manual die bonder with placement accuracy down to 3 µm. Quick to set up and easy to operate, the system is ideal for fast and flexible product development and prototyping in R&D labs and universities.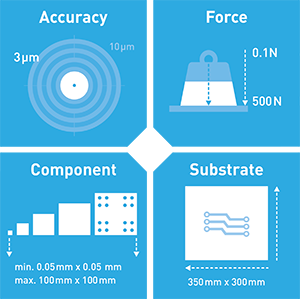 We have designed the FINEPLACER® pico 2 to accommodate a large number of technology and process modules, as well as application-specific tools. Users can add third-party functionalities and further customize the bonding system at any time. If new functions are needed, the modular architecture allows on-site retrofitting throughout the entire service life.
Getting started is effortless.
The high-resolution vision alignment system supports adaptable fields of view and comes with adjustable RGB illumination. It can find the best color contrast between component and substrate and makes manual alignment straightforward and reliable.
The spacious working area supports 300 mm wafers and enables batch processes. This is complemented by a high-resolution bonding force module with a wide range of available forces, which can handle a full spectrum of different components.
Process creation is a breeze with the intuitive and powerful IPM Command bonding software. It allows users to concentrate on the core tasks involved in application development, thus minimizing operating errors. At the same time, users have access to an unparalleled range of parameter tweaking options for process optimization.
The FINEPLACER® pico 2 follows our "Prototype to Production" approach of a cross-system, unified hardware and software platform. It enables R&D processes to be seamlessly transferred with all their technological diversity from development lab to production environment.
By combining application flexibility, technological diversity, process reliability and compatibility with Finetech's automated production bonders, the FINEPLACER® pico 2 offers an outstanding return on investment and is a natural starting point on the journey from concept to final product.
Or fill in the form below, to request more information.