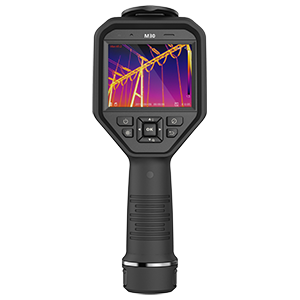 Handheld Thermography Camera
The HIKMICRO M30 handheld thermography camera is specially designed for accurate temperature measurement. It's equipped with a high resolution thermal detector and 8MP resolution optical light detector. The 3.5-inch touch screen displays picture in picture of optical and thermal view, fusion of both channels. The HIKMICRO M30 handheld camera is an idea solution which provides accurate non-touch temperature measurement and heat distribution image display for electronics applications, electrical predicative maintenance, building inspection, HVAC inspection, manufacturing monitor, etc.
Key Features:
Thermal resolution: 384 x 288 (110592 pixels)
NETD : < 35mK (@ 25 °C,F#=1.0)
Temperature measurement range : -20 °C - 550 °C
Accuracy: Max (±2°C), for ambient temperature 15°C to 35°C and object temperature above 0°C
Measurement Presets: Center spot, Hot spot, Cold spot, User Preset Point/Line/Area
Manual focus
25 Hz image frequency
Digital Zoom: 1x, 2x, 4x, 8x
3.5'' LCD touch screen display 640 × 480 Resolution
Laser Pointer
Interfaces: USB Type-C, Bluetooth 4.2, Wi-Fi 802.11 a/ac/b/g/n (2.4 and 5 GHz)
This email address is being protected from spambots. You need JavaScript enabled to view it.
Product information
Or fill in the form below, to request more information.