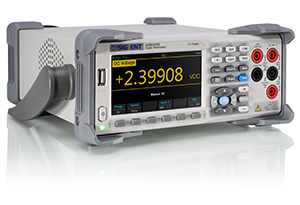 5 ½ Digits Dual-Display Digital Multimeter
The SIGLENT SDM3055 is a 5 ½ digit dual-display digital multimeter and features many powerful math and statistical functions. It includes a variety of communication interfaces with easy setup, comes equipped with a 4.3-inch TFT-LCD screen, and is designed for users who needs include high performance, multiple functions, and automatic measurements.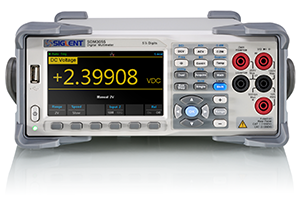 The SIGLENT SDM3055 has a powerful testing engine, measuring speed up to 150 rdgs/s, 1GB NAND total memory capacity, mass storage instrument settings, historical data, and external U disk storage. The SDM3055's interfaces include USB Device, USB Host, LAN. It can support VXI11, USBTMC remote control as well as interconnection with National Instruments' LabVIEW. A SCPI command programming manual is also provided in support of remote control operation programming. The SDM3055 is compatible with mainstream multimeter command sets and uses the compatible language with SCPI for transmission and control.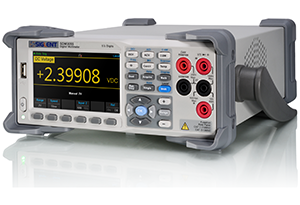 Key Features:
Real 5½ digits readings resolution ( 240, 000 counts )
Up to 150 rdgs/s measurement speed
True-RMS AC Voltage and AC Current measuring
4.3" TFT-LCD, 480*272 display
1 Gb Nand flash size, Mass storage configuration files and data files
Built-in cold terminal compensation for thermocouple temperature measurements
With easy, convenient and flexible PC software: EasyDMM
Standard interfaces: USB Host, LAN ( Optional Accessories USB-GPIB Adapter )
Scanner Card SC1016 ( Only for SDM3055-SC )
Support remote control operation via SCPI commands.Compatible with commands of main stream multimeters
This email address is being protected from spambots. You need JavaScript enabled to view it.
Product information
Or fill in the form below, to request more information.