Optilia M30x EasyView HDMI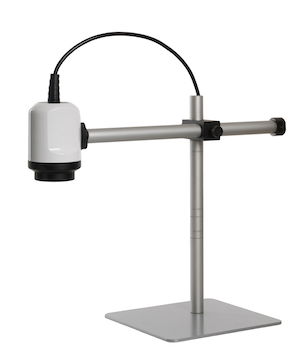 Full HD camera with 30x optical zoom and fast auto-focus
performance enabling first class inspection without sacrificing throughput. To accomplish this the M30x EasyView HDMI camera has been configured using a powerful formula combining a 30x optical zoom, very fast and responsive auto focus and a highly sensitive 1080p Full HD sensor.
The EasyView version has a working distance of 245mm making it ideal for most bench tasks. It is supplied with a smart custom stand designed for flexibility with a number of positioning possibilities, to give clear and clutter free bench space whilst working on objects under inspection. All M30x series products are presented as discrete plug-and-play systems featuring robust camera housings to suit demanding environments and a neat integrated bench top control unit that connects simply to the desired TV monitor.
The control unit provides Zooming, selection and manual control of Focus and Brightness, and a System ON/OFF switch.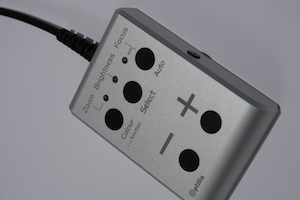 Key Features
Image Sensor: 1/2.5" CMOS, ~ 2.2 mega pixels
Picture Quality: Full HD
Optics: 30x optical zoom with auto focus, F1.6 to F14 (F4.7 to F14 at 30x)
Working Distance (w/o Close-up): 210 - 240 mm
Working Distance with +2 Close-up: 145 - 160 mm
Working Distance with +5 Close-up: 95 - 110 mm
Working Distance with +10 Close-up: 60 - 70 mm
Camera Control: Aluminum housing Control unit with function buttons
Adjustable Parameters: Optical zoom, brightness, focus
Output: HDMI 1.4b
Model Options:

-E ESD-protected
-L With laser pointer
-M Medical housing
This email address is being protected from spambots. You need JavaScript enabled to view it.
Product information
Or fill in the form below, to request more information.