Chemtronics® IPA Presaturated Wipes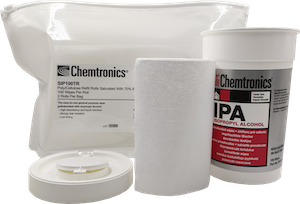 Product Description
IPA Presaturated Wipes remove solder paste, inks and other contaminants. These highly effective cleaning wipes are ideal for all general cleaning applications. IPA Presaturated Wipes are well suited for touch-up cleaning of automatic printer stencils and cleaning of semi-automatic printer stencils during and at the end of production runs.
Presaturated Wipes contain ultra-pure 70% electronics grade isopropyl alcohol and 30% pure deionized water. The wipes are available in a center pull pop-up canister.
Plastic Safe
Lint free
RoHS Compliant
Flammable
Regular Cleaning Strength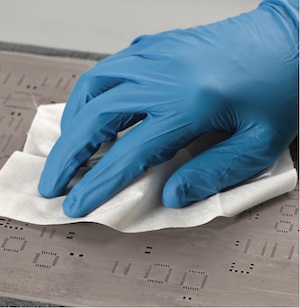 Typical Applications
IPA Presaturated Wipes are engineered for cleaning:
Screens & Stencils
Cables
Hard-line Coax Cable
Metal & Fiber Optic Cable Splices
Printed Circuit Boards
Compatibility
IPA Presaturated Wipes are generally compatible with most materials. As with any chemical product, component compatibility must be determined on a non-critical area prior to use.
This email address is being protected from spambots. You need JavaScript enabled to view it.
Product information
Or fill in the form below, to request more information.