Techspray® Eco-Stencil RF Batch Stencil Cleaner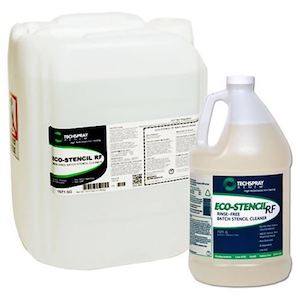 Eco-Stencil RF is an effective nonflammable drop-in replacement for isopropyl alcohol (IPA) and other solvents commonly used in rinse-free batch stencil cleaning systems. Unique solvent and DI water blend is effective at removing a wide variety of pastes and adhesives. Higher concentration can be used for more difficult pastes and adhesives.
Eco-Stencil RF does not contain ionics, and will not leave contaminants that will change downstream process windows or lead to board failures. It can also be used as a manual and under-stencil cleaner.
Eco-Stencil RF batch stencil cleaner has been tested and proven compatible with every part of your stencil — from the frame, screen and stencil to the adhesives binding it together.
Eco-Stencil cleaners are fully compliant with CARB (California Air Resource Board) requirements. Also compliant with European REACH (Registration, Evaluation, Authorization & Restriction of Chemicals) and WEEE (Waste Electrical and Electronic Equipment Directive) initiatives. They do not contain RoHS (Restriction of Hazardous Substances) restricted substances, SVHC (Substances of Very High Concern) list substances, or halides.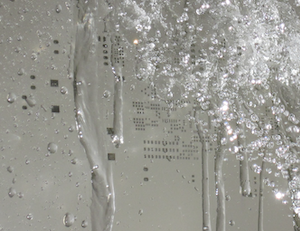 FEATURES & BENEFITS
Rinse-free
Nonflammable
Drop in replacement for IPA
Highly concentrated down to 20% dilution
Effective at ambient temperature
Low VOC, zero GWP
Cleans paste or uncured adhesive quickly
Effective on all solder pastes: lead, lead-free, aqueous, RMA & No-Clean
This email address is being protected from spambots. You need JavaScript enabled to view it.
Product information
Or fill in the form below, to request more information.