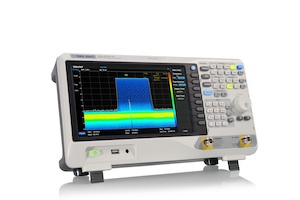 Real-Time Spectrum Analyzer
The SIGLENT SSA3000X-R real-time spectrum analyzers are powerful and flexible tools for complex RF spectrum and signal analysis. With a capability of 40 MHz analysis bandwidth and 7.2 µs 100% POI, the analyzer can provide multi-dimensions data displays, advanced triggering, and RF data capturing, to solve modern RF spectrum challenges, like hopping frequency, conflict channel, spectrum interference, etc. They also provide standard tracking generator for network analysis, optional wide band digital modulation analysis, and EMI measurement. Applications include broadcast monitoring/evaluation, cellular site, IoT, WiFi, Bluetooth surveying, research and development, education, production, and maintenance.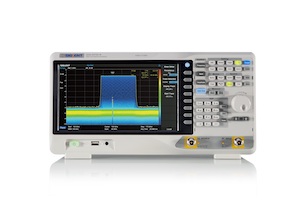 Key Features:
Spectrum Analyzer Frequency Range from 9 kHz up to 5.0 GHz / 7.5 GHz
-165 dBm/Hz Displayed Average Noise Level (Typ.)
-98 dBc/Hz.@10 kHz Offset Phase Noise (1 GHz, Typ.)
Level Measurement Uncertainty < 0.7 dB (Typ.)
1 Hz Minimum Resolution Bandwidth (RBW)
Preamplifier Standard
Tracking Generator Standard
Up to 40 MHz Real Time Analysis Bandwidth (Opt.)
100% POI 7.20 μs, Dynamic Range 60 dB
Multi-view for Density, Spectrogram, PvT and 3D
Advanced Measurement Kit (Opt.)
Reflection Measurement Kit (Opt.)
Modulation Analysis Mode (Opt.)
EMI Measurement Mode (Opt.)
10.1 inch Multi-Touch Screen , Mouse and Keyboard supported
Web Browser Remote Control on PC and Mobile Terminals and File Operation
This email address is being protected from spambots. You need JavaScript enabled to view it.
Product information
Or fill in the form below, to request more information.