Mountz EZ-TorQ III Torque Analyzer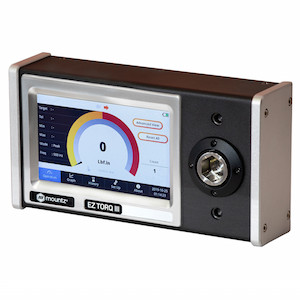 The EZ-TorQ III Torque Analyzer is taking a step further towards high-quality production.
About Mountz
What started in a garage in Cupertino in 1965 has steadily grown to become a leading force in torque innovation. From the development of the first electronic torque calibrator that launched a new product category, Mountz has always challenged the status quo and pursued new ideas to help our customers optimize precision, accuracy and quality across their manufacturing processes. For our products. For your products. For the safety of your employees and your customers. Quality is at the heart of everything we do.
EZ-TorQ III Torque Analyzer
For quality-minded assembly professionals who want to ensure their hand and non-impacting power torque tools are accurate every time they are on the floor, meet the next generation of toque validation; the EZ-TorQ III. Highly portable and user friendly, this battery powered torque analyzer can be easily carried around the assembly line to spot check tools as part of a QA program or used at assembly stations for quick and easy torque tool validation and calibration. The new smart phone like touch-screen interface breaks down barriers and ensures quick and easy validation of different ranges as needed. The basic and advanced statistics will satisfy all the production and quality departments in charge of keeping track of the assembly tools. Tests results saved and linked to the tested tool's serial number offer full traceability of the production tools. Using the EZ-TorQ III is taking a step further towards high-quality production.
Key Features:
An ISO 17025 certified torque analyzer used for calibrating and testing small hand screwdrivers, most wrenches and power tools
Quick and easy-to-use torque analyzer to verify a tool's performance on the assembly line
Ensure proper torque is being applied and tools maintain conformity with quality standards
Instant verification that a tool is still in or out of calibration. Daily or weekly verification in assembly area
Portable & rechargeable
Vivid full color, smartphone-like touchscreen interface
Virtually unlimited data point storage with swappable SD card memory
Sophisticated on board software with SPC analysis
Ability to analyze and create statistical data
Ability to capture and store data
Multi language operation (English, Spanish, French, German, Chinese or Portuguese)
Mountz EZ-TorQ III Data Streamer. Ability to analyze data and calculate statistical data
Creates a historical record of your torque readings
Documentation solution
Accuracy ± 0.5% of reading from 20% to 100% of full scale
Accuracy ± 1% of reading from 10% to 20% of full scale
Models:
EZ-TorQ III 10i, Torque Ranges: 1 - 10 lbf.in, 11.3 - 113 cN.m, 1.2 - 111.5 kgf.cm
EZ-TorQ III 50i, Torque Ranges: 5 - 50 lbf.in, 56.5 - 565 cN.m, 5.8 - 57.6 kgf.cm
LCEZ-TorQ III 100i, Torque Ranges: 10 - 100 lbf.in, 113 - 1130 cN.m, 11.5 - 115 kgf.cm
EZ-TorQ III 150i, Torque Ranges: 15 - 150 lbf.in, 169.5 - 1695 cN.m, 173 - 17.3 kgf.cm
EZ-TorQ III 300i, Torque Ranges: 30 - 300 lbf.in, 339 - 3390 cN.m, 34.5 - 345 kgf.cm
This email address is being protected from spambots. You need JavaScript enabled to view it.
Productinformation
Or fill in the form below, to request more information.