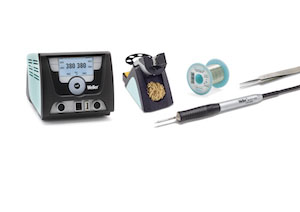 One Station. One Solution. Save money, time and work space!
Weller® is pleased to launch a new exclusive promotion of the "Weller Connect" Program:
Brand new 7 WX Promotion Sets, which are available with 20% discount till 31-12-2020.
Weller WX stations make the manual soldering process safer, a crucial factor in the automotive, aerospace and medical technology industries. This station set is especially designed to meet the MIL-SPEC / IPC standards to save sensitive components from electrical overstress by using Weller's RT MS soldering tips. Weller offers a wide range of RT MS tips to solder components with the size from XS to L.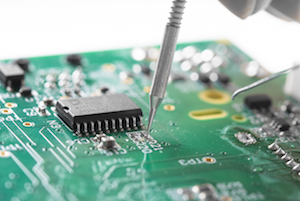 A safe soldering process is guaranteed by many features of the Weller WX station like temperature and tool locking, and tool-specific temperature settings.

Integrated USB ports provide the WX bench top control units with a connection to and control over soldering fume extractors, pre-heat plates and programmable logic controllers (PLC).

Firmware updates and registration are quick and easy by using USB sticks. Parameters such as standby temperatures and automatic switch-off time can easily be stored in the soldering iron. Parameters only need to be stored once; the MS soldering iron can then use them with any WX station. Production within the electronics, medical technology and aerospace industries is moving faster as components become smaller, more sensitive, complex and more powerful. The soldering industry is not different. With the Weller RT MS tips you meet these increasing demands and provide maximum protection to the printed circuit board and the component you're soldering. With the MS tips you achieve the best results and keep your operation costs as low as possible. The Weller MS (military standard) soldering tips with active tip technology are fully compliant with IPC industry standards

(IPC - TM-650 2.5.33 Measurement of Electrical Overstress from Soldering Hand Tools) and are also MIL-SPEC compliant.
This email address is being protected from spambots. You need JavaScript enabled to view it.
Productinformation
Or fill in the form below, to request more information.