Optilia W30x-HD FreeSight Full HD High Working Distance Camera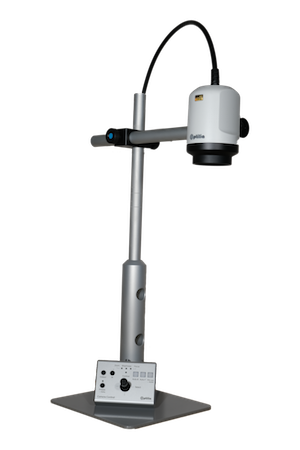 The FreeSight version has an extended working distance of 500mm and a compatible bench stand specially designed to provide clear and clutter free bench space for working on objects that you can observe at high magnification.
By deploying extremely quick auto focus together with Optilia's renowned and superior optics, the time spent on inspecting objects is significantly reduced compared to other video systems. The integrated laser pointer is an excellent guide to locating the areas of interest on the object. The camera can easily be connected to a Full-HD or HD-ready monitor or TV of relevant size through HD component video outputs. Image attributes, such as brightness, contrast, focus, image sharpness, color and other parameters are automatically set but can be controlled manually by the user through the software. For recording, measuring and archiving of digital images, the system can be linked to a computer through Optilia's PCI express Frame Grabber with OptiPix software.
W30x-HD FreeSight is made of high quality components, and ESD protected housing. The instrument is designed according to the requirements of electronics manufacturers regarding excellent image quality, flexibility, time and cost effectiveness.
Key Features
Image Sensor: 1/2.8" CMOS, ~ 3.2M pixels
Picture Quality: Full HD 1080p (1920x1080)
Optics: 30x optical zoom with auto focus, F1.6 to F14 (F4.7 to F14 at 30x)
Working Distance (w/o Close-up): 350 - 500 mm
Working Distance with +2 Close-up: 210 - 245 mm
Working Distance with +5 Close-up: 125 - 140 mm
Working Distance with +10 Close-up: 73 - 80 mm
Camera Control: Aluminum housing Control unit device with Joystick or PC Control Software via serial COM or USB port
Adjustable Parameters: Optical zoom, iris, exposure (shutter speed), brightness, focus, white balance (colour), picture freeze, NIR-vision mode, image rotate, negative picture, save & recall, zoom factor display and cross line on live image.
Model Options:
W30x-HD FreeSight (Standard)
W30x-HD-E FreeSight (ESD-protected)
W30x-HD-M FreeSight (Medical housing)
This email address is being protected from spambots. You need JavaScript enabled to view it.
Product information
Or fill in the form below, to request more information.