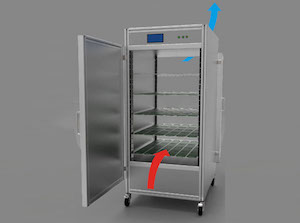 Procedure for the resource saving use of mouth nose protection (MNS), FFP, N95 and N99 masks
Due to the Corona Pandemic, protective equipment is becoming scarce in the health sector. In fact, oronasal protection masks or FFP masks are usually disposable items in daily hospital routine.
Recent studies have shown that the new types of corona viruses are effectively destroyed by heat. Based on these results, we would like to provide a device that gently warms and cleans the masks.
Save handling, loading and unloading from different sides to keep a separation between contaminated and sterile side.
Adjustable heating programs with optional temperature 60 - 100°C and timer
Traceable temperature curves of the heating cycles
4 integrated temperature sensors inside heating chamber
Heating chamber with 5 drying trays, optional hanging storage
External and internal housing made of stainless steel
Dimensions (WxDxH) 800 x 1000 x 1800 mm
Capacity for approx. 200 masks per heating cycle
Or fill in the form below, to request more information.