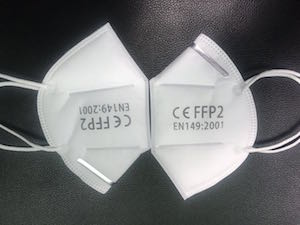 Available from stock
Disposable face masks FFP2 are effective in protecting against germs, dust and air pollution, safeguard your health and life. Suitable and applicable for every situation in contact professions, gardening, painting, construction, nail salons, medical, dental uses and people with allergies, give you long lasting protection.
Specifications
Material: 1st Layer Non-woven, 2nd Layer Melt Blown Filter Fabric, 3rd Non-woven Needle Punched
Nose Clip: Aluminum
Bacteria Filtration efficiency ≥95%
Standard: EN 149:2001-FFP2
Certification: CE, EU Standards
Skin irritation: almost negative
Particles: less than 100ea
Type: Ear Loop
Color: White
Product features
Antibacterial, Anti-Dust, Non-irritating to skin
Fluid repellent, chemical repellent, acid repellent.
Non-toxic and non-irritating, non-latex.
Lint-free, latex free, glass-fiber free, comfort fit.
Convenient, flexible, economical, soft, safe.
Adjustable Nose Piece for better fit.
Or fill in the form below, to request more information.