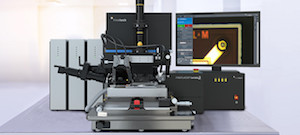 The Ultimate Tool for Opto Assemblies
Sub-Micron Bonder
The all-new FINEPLACER® lambda 2 builds on its acclaimed predecessor to set new standards in precision die attach and advanced chip packaging for opto-electronic assemblies and more.
The completely revised bonding platform can be easily configured for a wide range of applications for process development or prototyping. Numerous process module options and in-field-retrofit capabilities guarantee maximum technological flexibility to protect your investment in the face of ever-changing challenges.
Due to an ergonomic machine design and software-supported user guidance, the user remains at the center of action. Powerful optical systems allow the user to keep an overview at all times, even when working in the sub-micron range.
The FINEPLACER® lambda 2 shares a common module range and innovative operating software with Finetech's automatic bonding systems to ensure a seamless process migration to series production. Ask us about our scalable solutions.
Key Facts
» Sub-micron placement accuracy
» Numerous bonding technologies (adhesive, soldering, thermocompression, ultrasonic)
» Superior optical resolution
» Individual configurations with process modules
» Wide range of controlled bonding forces
» Data/media logging and reporting function
» Full process access & easy visual programming with touch screen interface
» Fully manual or semi-automatic machine versions
» Excellent price performance ratio
Or fill in the form below, to request more information.