Weller WT Soldering and Rework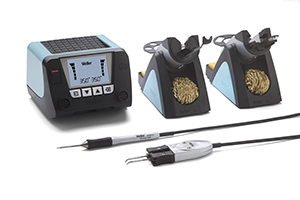 High flexibility for versatile applications
An unstoppable lineup...the WT.
The best defense. Weller's new WT Line is an unbeatable contingent of compact, stackable soldering stations that are 90 and 150 Watts and feature 1- or 2-channels. A 900 W hot air station is also included. They are backwards compatible with a phalanx of irons and accessories, giving you a lineup that can face down most hand soldering challenges.
A cleaner, more organized workbench. The space-saving power units have interlocking, reversible safety rests that offer convenient and safe tip storage.
The can-do WT soldering stations.
These next generation, small but mighty soldering stations aim to please. They are compact enough to fit in your hand and be stacked on top of each other, but versatile and powerful enough to tackle all kinds of soldering jobs from heavy high mass applications to delicate microsoldering (the WT 2M only). The high performance WTs are available in a one-channel 90 W station, and also with 150 W powering one- and two-channel stations. Only the 2-channel WT 2M supports Weller's line of microtools.
High performance WT soldering stations
Up to 150 Watts power
User friendly, stackable units
Best in class – attractive price/ performance ratio
Maximum versatility: backwards compatible with existing soldering tools
Comprehensive range of accessories
Featuring the high performance WTP 90 soldering pencil. Innovative and cost-effective with a tip that performs like a cartridge tip
This email address is being protected from spambots. You need JavaScript enabled to view it.
Or fill in the form below, to request more information.