SIGLENT SVA1000X Spectrum & Vector Network Analyzer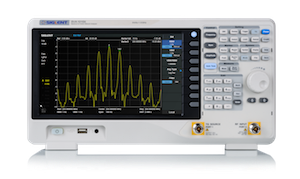 The SIGLENT SVA1000X series spectrum & vector network analyzers are powerful and flexible tools for broadcast and RF device testing. With a wide frequency range from 9 kHz to 1.5 GHz, the analyzer delivers reliable automatic measurements and plenty of features including a tracking generator and multiple modes of operation: the base model is a swept super-heterodyne spectrum analyzer and optional functions include a vector network analyzer, a Frequency Domain Reflectometer based distance-to-fault locator, and a modulation analyzer. Applications include broadcast monitoring/evaluation, site surveying, EMI pre-compliance, research and development, education, production and maintenance.
Key Features
Tracking Generator Standard
Vector Network Analysis (Opt.)
Distance To Fault (Opt.)
Modulation Analysis (Opt.)
EMI Pre-compliance Test Kit (Opt.)
Advanced Measurement Kit (Opt.)
10.1 inch (1024×600) Multi-Touch Screen, Mouse and Keyboard supported
Web Browser Remote Control on PC and Mobile Terminals
Limited Time Offer: Bundle Sale on Spectrum Option
This email address is being protected from spambots. You need JavaScript enabled to view it.
Or fill in the form below, to request more information.