Rework Station EXPERT 04.6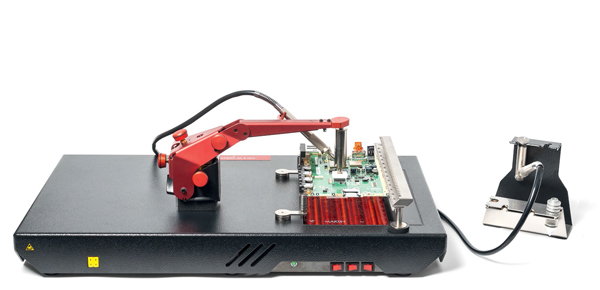 Manual rework of BGA, QFP and Sockets
The EXPERT 04.6 Reworkstation provides optimal support in the manual rework station environment. Designed to provide all the functions required for Rework and ergonomically arranged in a very compact space, the unit incorporates: heating, residual solder removal and placing. The heating technology employed guaranties exemplary soldering results.
A IR Underheater ist integrated in the EXPERT 04.6 to ensure ideal conditions for different applications. The precise and highly efficient hot air top heating is an important component in any of the EXPERT04.6 models. Top and bottom heating is automatically adjusted to the required parameters by the "Auto-Profiler".
Manual rework system for BGA, SO, CSP, shielding, connectors, etc. with additional functions like solder removal and placing. Designed and optimized for rework of mid size PCB.
Rework Station with 2000W heating power in IR-Technology over an area of 185x245mm2. Placement of SMD Chips with Star Tool Technology, incl. Easy-Solder eco software package and Hot Air 05 control unit. The rework set comes together with additional tools for residual solder removal and dispensing.(optional) It has two high resolution sensor inputs for thermocouples (Type K).